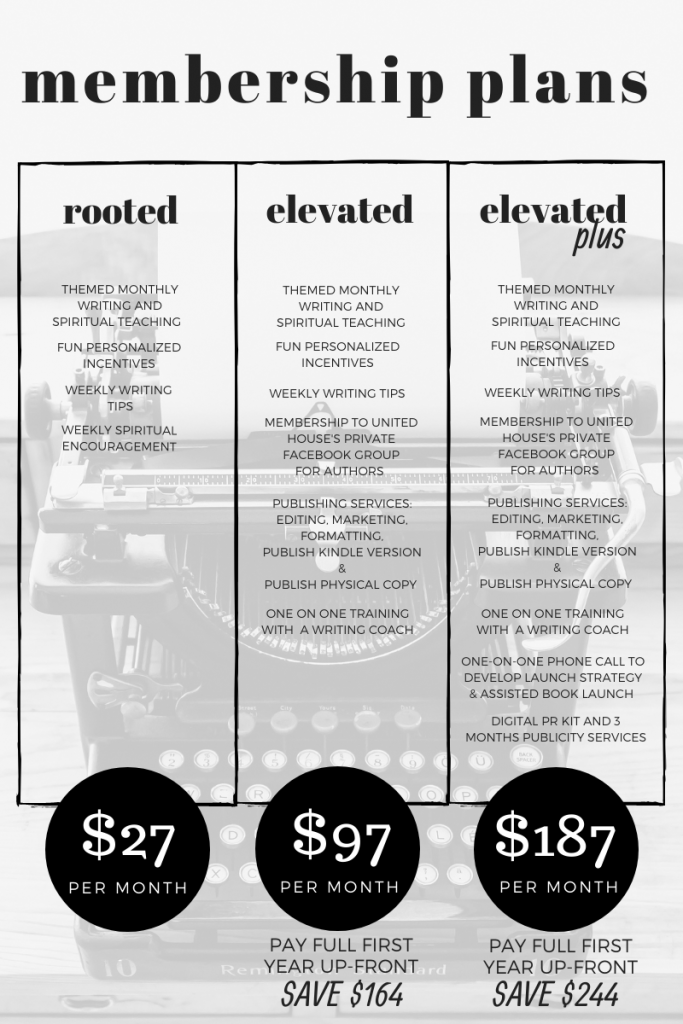 At UNITED HOUSE Publishing we offer 3 different plans for writers.
The rooted plan is for those who want to begin their writing journey, get helpful tips, and spiritual encouragement on a weekly basis as they pursue the gift that God has given them. This path would even be great for bloggers or for those who want to self-publish.  You can sign up for our rooted membership HERE.
The elevated plan is for authors who want one on one coaching and guidance, want to be a part of an author community, looking to release a physical copy and Kindle version of their book, and want assistance with launching their book. We take the author from concept all the way through completion. For this plan, we do require a book proposal to be submitted to us, and we have a brief interview process and application to fill out. To get started, please request a book proposal form to fill out HERE.
The elevated plus plan includes all the benefits listed above in the elevated plan, but also comes with a publicity package (over $1000 in marketing services). This is the plan for those who want professional help strategizing a successful book launch. Elevated plus members will have assistance running a launch team from a UNITED HOUSE team member, and have our in-house publicist professionally market the book for 3 months. You can apply to become a member of UNITED HOUSE and publish your book by requesting a book proposal form HERE.
Have a completed manuscript?
The elevated plan also has a track specifically designed for authors who have a completed book and are ready to submit a manuscript. Because of this, writers have the unique option to start on the rooted plan anytime, grow as a writer, edit a current work, and make adjustments to a manuscript in order to get it ready to submit to UNITED HOUSE. At the next open enrollment the author has the potential to upgrade to our elevated plan, if accepted, with a complete manuscript ready to go, therefore speeding up the publishing process.
Elevated Membership Pay the year in full: $1000, save $164
Elevated Plus Membership Pay the year in full: $2000, save $244
HAVE MORE QUESTIONS? Check out our FAQ page.