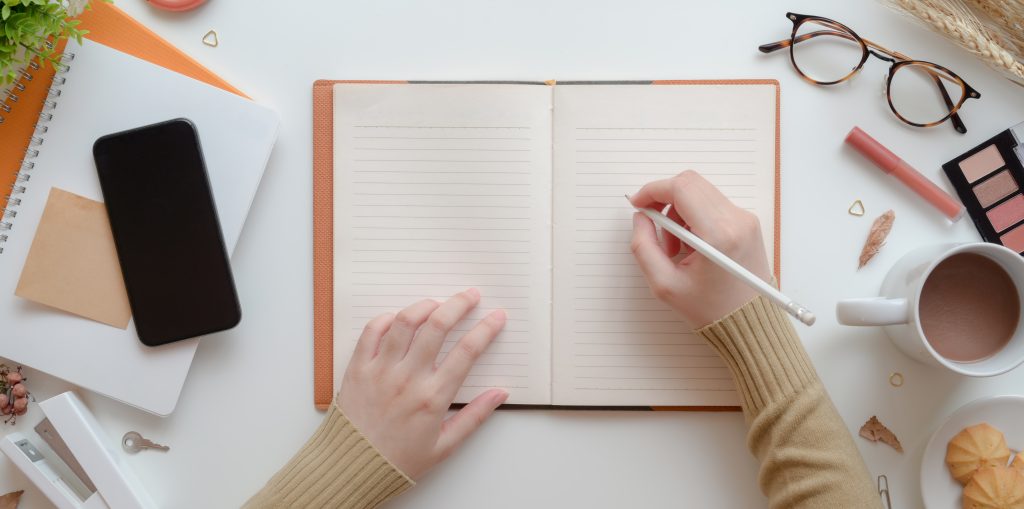 So, you want to write the first draft and you have no idea how or where to start. Do not fear, many people have felt and may still feel this way. It is a blessing for God to give us the ability to tell our stories through writing. It provides the chance to use our gift to connect with others and share God's goodness in our lives.
Before we get into some tips, let's define the first draft.
A first draft is a preliminary version of a piece of writing. During the first draft, the author is developing the main characters and flushing out plot ideas of their work while uncovering the overarching themes they want to convey.
This sounds really overwhelming. Developing characters, flushing out a plot that you are not really sure about, and trying to figure out what the end goal for your book is can be a lot to deal with for the first draft.
Here are some tips that can be helpful for eliminating the fear that may come when writing the first draft. We pray that these can be of use for you starting this amazing journey of sharing your story with the rest of the world.
1. Don't Criticize the First Draft
It can be really hard to write the first draft let alone finishing the first draft when we are busy trying to edit and make adjustments as we go. The point of the first draft is to get all of the thoughts out of your head. No, it's not going to be in order. No, it might not make sense. But the important thing to remember is that you need something on the page. You will have plenty of time to edit.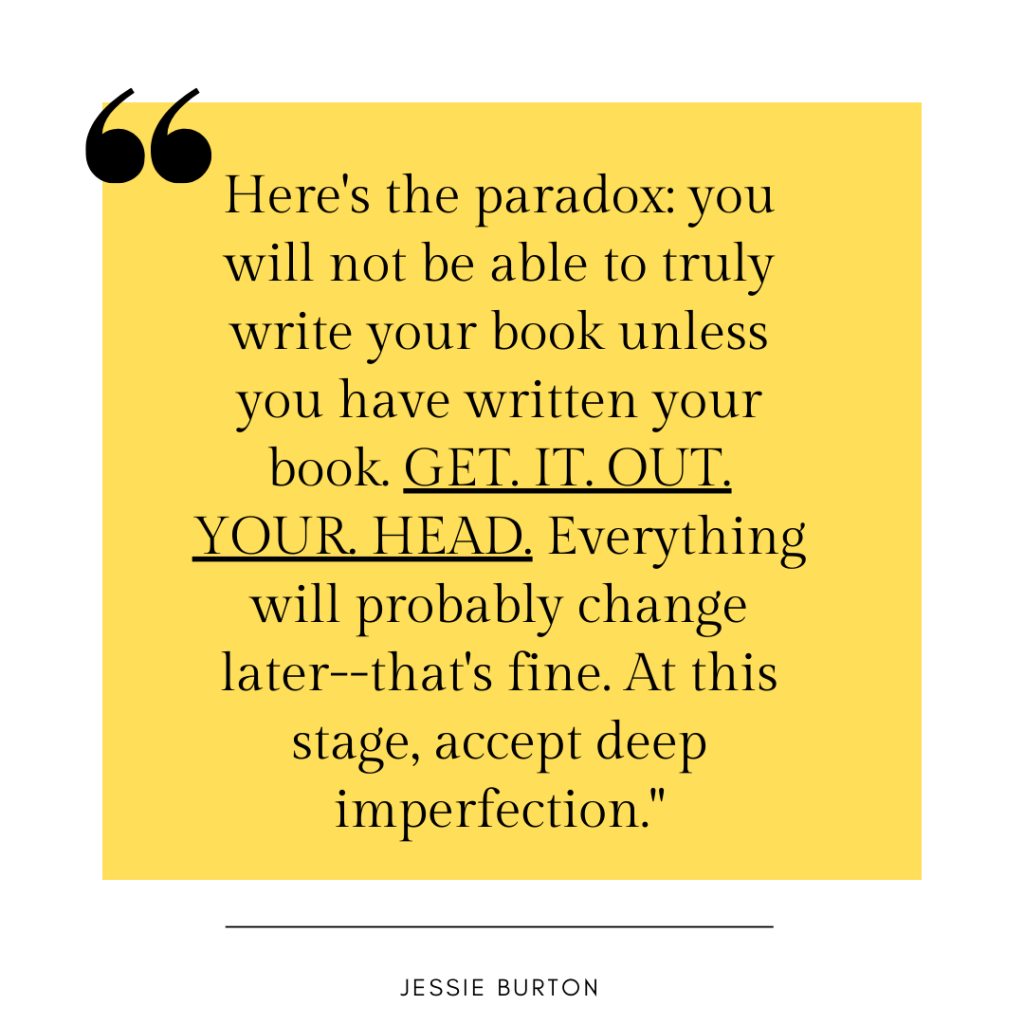 If God has placed it on your heart to write this book, don't give up! He's not asking for perfection. He's just asking you to walk out your purpose and what He has placed on your heart to share. One of our own writers, Christine Temp encourages you "Don't edit your first draft. Just write." It can be difficult, especially if you are a perfectionist, but remember that over time God will make the book what it is set out to be.
2. Write in Any Order
"My own first drafts are more like skeletons; the bones of the story are there, and sure, some are missing, superfluous, and in the wrong place, but I've got something to work with, a story to build upon and layer"

HANNAH MARY MCKINNON
A lot of times what can prevent us from writing that first draft is our fear of having it in a specific order. This can also be a restraint if you are too focused on making sure the story is in a set chronological order. Write what feels right. If it works for you to write in a linear fashion, that's great. If you want to work with the Jigsaw Method and start with specific scenes or moments, that works too. You can even use what LitHub calls "The Nugget in the Dump Method." The first draft might not even be what you use later. It can simply be an inspiration for something completely different. However, you choose to write, the important thing is that you are writing.
3. Schedule Time For Writing
One of the most difficult things, when you are starting anything, is making time. Even if it's just for 30 minutes a day, take out the time to write.
"The more you write, the better you will understand the project at large"

ROSS RAISIN
You won't be able to figure out what you are writing if you don't even begin the process. Just as we are committed to other things, it takes a commitment to write out your story. Getting something written or typed out is the ultimate goal of the first draft. It is important that you can take the time to do it.
When you start writing, make sure to eliminate distractions! Remain focused only on writing during that time block. Even when it seems difficult and all you might get out is a few words, keep going.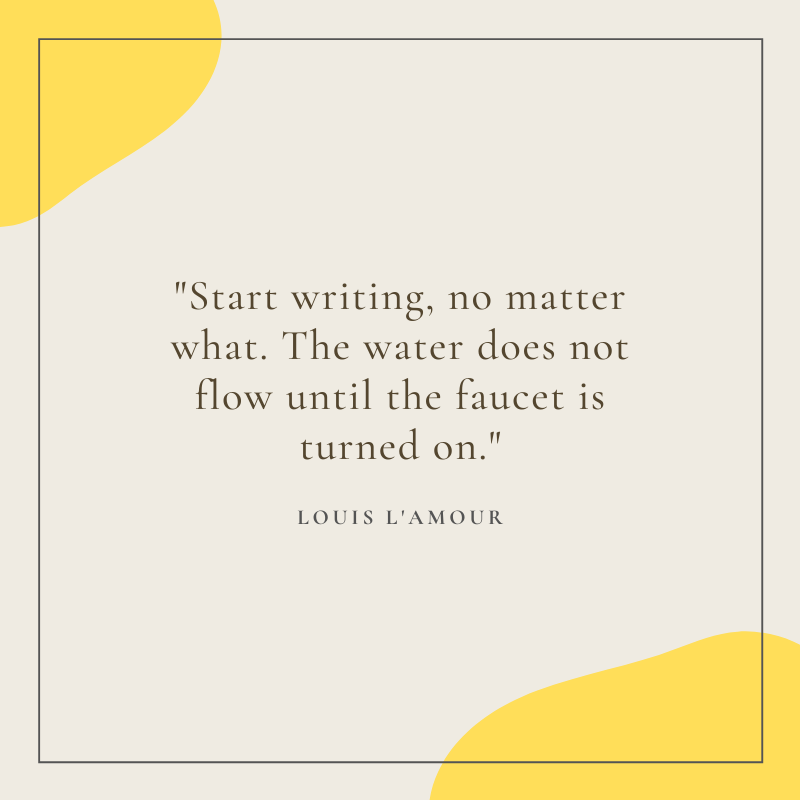 4. Use Placeholders
As a writer myself, I struggle deeply with trying to make sure I am saying the right thing or making sure that what I am writing is correct. If there is a certain fact you do not know, place "TK" there as a placeholder. If that is not something that works for you, you could even try putting a placeholder like (add more here) or even (come back to later). There have been plenty of first drafts where I have done this, and it works. It relieves the pressure to make it perfect and can also help you stay focused if you only have a limited amount of time to write.
5. Set Deadlines
Hold yourself accountable. If you want to get a first draft done, do what it takes to get it complete. If you are a person who likes deadlines, create certain benchmarks every time you sit down to write. Create a word count goal of 250 words each day. Some days you might even break that!! When you set deadlines and begin to track your progress you will be amazed and how much you have actually accomplished.
6. If You're stuck, Go Away, and Come Back
Don't overwork yourself. It's good to write and get the creative juices flowing, but if you are frustrated and you don't feel like you are getting anywhere that is okay. Take a break. Breathe. Pray. Allow God to speak to you and let His peace flow in your heart.
One of our own authors Gina Rodriguez speaks on one of her favorite scriptures that keeps her encouraged when writing.
"Ask God to help you be disciplined in what you said you would do. A Bible verse that convicts me in a good way and keeps my focus is 2 Corinthians 8:11 which says 'Now finish the work, so that your eager willingness to do it may be matched by your completion of it, according to your means.' The only way to start is to start, I and even if that means one word at a time, do it."
It can be a lot of pressure to try and write the first draft. Trust what God has given you. He wouldn't have you write that story if He didn't think it was important to share with the rest of the world.
Source: New International Version (NIV) Holy Bible, New International Version®, NIV® Copyright ©1973, 1978, 1984, 2011 by Biblica, Inc.®Used by permission. All rights reserved worldwide.
---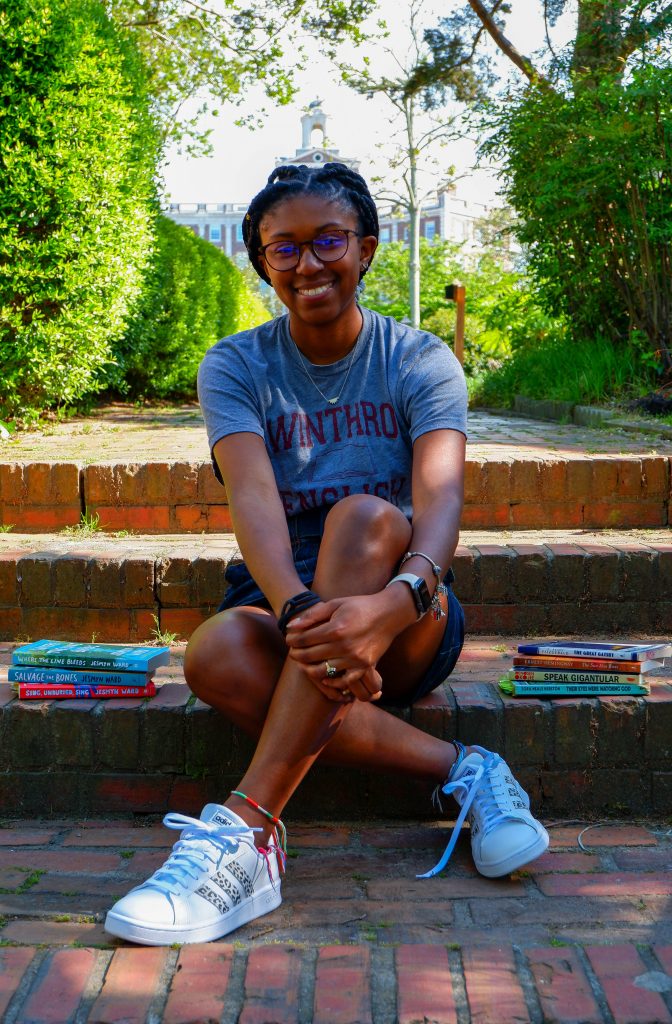 Faith Rush is the Blog and Social Media Intern for United House Publishing. A current graduate from Winthrop University, Faith loves writing, reading, and cooking. When she is not spending her time watching cooking videos and trying new recipes, Faith is searching for ways to use her blog and social media platforms for God's glory. To learn more about her journey, you can check out her website www.writebyfaith.com or her Instagram @write.b.faith