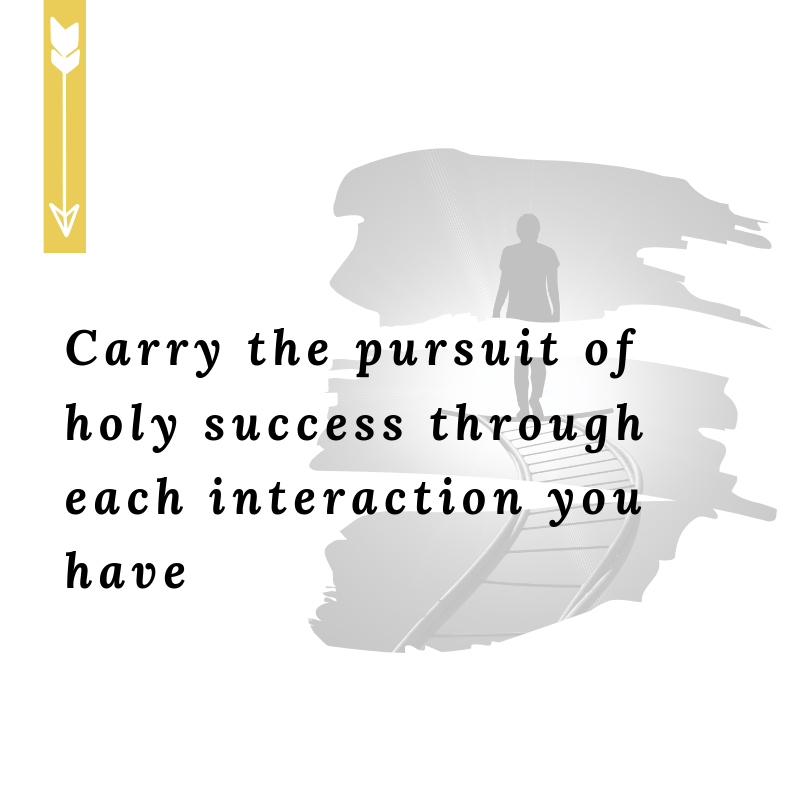 Since publishing my book, I've felt at a loss for what's next. Have you ever been there? You finally get that thing you've been working towards, or you're accepted into that program you've longed for. Maybe you got that guy or girl you've had your eye on, or that giant deal you've been prepping for just went through. Whatever your specific scenario, that huge dream on your heart has finally been fulfilled, and you're looking for what's next.
This is where I've been lately, but I've also felt at a huge discomfort because of it. Why am I feeling like this? I just did something I've been longing to do for a long time. I finally have a product to show for all the hours of work, late nights, and emotional weeks I had over the last couple of years. Although I am so proud, I am left thinking – now what?
I definitely found similarities in others as I expressed my current state to those around me. I actually found that those in the middle of the "project and pursuit" season were feeling similarly as well, and although the common thread surprised me, I was also a little perplexed. Why do we feel either the emptiness that comes when a project ends or overwhelmed in the middle of one? Why do we feel the need to grasp onto something else to find fulfillment right away? Doing big things is great, and I will continue to check off accomplishments as my life goes on, but I'm not okay with feeling this way each and every time I don't know what's next.
One thing to another
I took this problem to the Lord and asked Him about it (always a great idea). One of the things I love about my relationship with God is He always has something to say. Like a good Father, He always has advice to give, love to pour out, and comfort to cover me. While He and I chatted about this, I started to realize something. Right now, our culture lives in a place where it's one thing to the next.
Oh, you're dating? When are you getting engaged?
Oh, you're engaged – congrats! When's the wedding?
You're married! Woohoo! When are you guys having kids?
Oh, your firstborn is so cute! When is the next one? 
It's insane! This conversation is something I have specifically experienced in my life far too often, but I've noticed the pattern in other areas of life as well, not just in conversations about relationships. 
Oh, congrats on starting your platform! What's your first endeavor?
Your blog is amazing! Are you thinking about writing a book? 
Oh, you wrote a book, I love it! Do you have another one in the works?
Wow, you've written so many books, is this all you want to do? What's next?
It's crazy, friends. I hope you're giggling along because it's literally insane how true this is. 
So as I took this to the Lord and started asking Him how to relieve the pressure in this time, He spoke so much truth that it had me on my knees. I want to share with you some of the key points He has been teaching me during this season about how to reconnect and re-center. 
First, we need to carry a lifestyle of holy success every day. 
God loves to watch us run after things using all the gifts and talents He's given us. He loves to see us accomplish things and for our reach to grow to encourage more and more people through what we are doing. This is a holy mentality of success. But this success mentality can't be moment to moment or accomplishment to accomplishment; it has to be a lifestyle. Instead of living on the highs of success and dipping when there isn't a current project, we have to carry it through.
Carry the pursuit of holy success through each interaction you have in your life, not just in the large projects we take on. At the post office, the grocery store, or the park with your kids, how can you continue to express the values you desire to release? You don't need to solely influence others through big things like books or businesses, but you can influence and encourage right where you are every day. Pursuing this version of a successful lifestyle in every interaction will help bring those large projects and pursuits into focus as another extension of what you are already doing and what you are already releasing. 
Second, we need to carry our intentionality. 
Think about those first months after you say yes to pursuing the next thing. Think about how much intentionality you have. You are focused and prepared for every scenario. Naturally, you giving time and energy to it consistently. You are more attentive, engrossed, and fixated on the end goal than in normal everyday life, and you will do whatever it takes to get to the finish line. I feel God told me it's important to carry my intentionality. It's important to be equally as intentional in every single simple moment of my life as I am when I have a large project in front of me. It's important that I map my time, give my energy, and pursue the outcomes I want as intentionally every day as I do during a project season.
I find it amazing how my everyday mindset has shifted since He's been speaking this to me. I am intentional with time with my husband, with planning moments for us, with my job that I do, with my friendships I'm stewarding, and with my weekly schedule. The last two years have looked like me being intentional in different ways as I've fit the project deadlines into my everyday life, but now that that's gone, I still have the mentality of being intentional in the other things I'm doing in my life as I pursue building relationships around me. 
Lastly, He told me, "It's time to reconnect to the small things." 
This is a big one. Birthday parties and walks in my neighborhood. Movie nights and planned getaways. Growing my garden and taking care of my house. Laughter with friends and frequent coffee dates. Opening my heart and deep conversations. When there's a project in front of us, it's easy to get swept away in how big it all feels. It's easy to be so engrossed by the wonder of what we are working toward that we forget the small things God has put in our path to bring us joy. Reconnecting with the small things reconnects us to an awareness of what He is doing. 
So friends, I hope this open thought processing from me helps you. I hope by sharing what's on my heart, you too will be able to be consistent in the highs and the lows of life. Whether you're in a busy season of a planned project or you're searching for what's next, start in this place. Keep a holy success mentality, continue daily with intentionality, and reconnect to the small things in your life. Life doesn't have to be overwhelming, busy, and unbearable. It doesn't have to be an endless tornado of "yes," "no," and "maybe." It doesn't have to be planning schedules and crossing things out in order to fit another thing in. Despite what season you are in, I believe these three truths the Lord spoke to me can be carried in your life. 
Consistency is key
My goal in this season is to be consistent. I want to carry my values and my desires through everything that I do and not just when I have a project to say yes to. I want to allow my heart to be open and my mind to be clear no matter what I'm saying yes to. To me, this is true identity. This is knowing who you are and remaining consistent despite the truth of the circumstances around you. Although I don't have this all figured out right now, I'm learning. My Father is teaching me what it looks like to reconnect, re-center, and be aware of all that He is doing around me and to let go of needing to know what's next. 
And I encourage you to do the same. 
Xoxo, Mir. 
Author | Miranda Trudeau