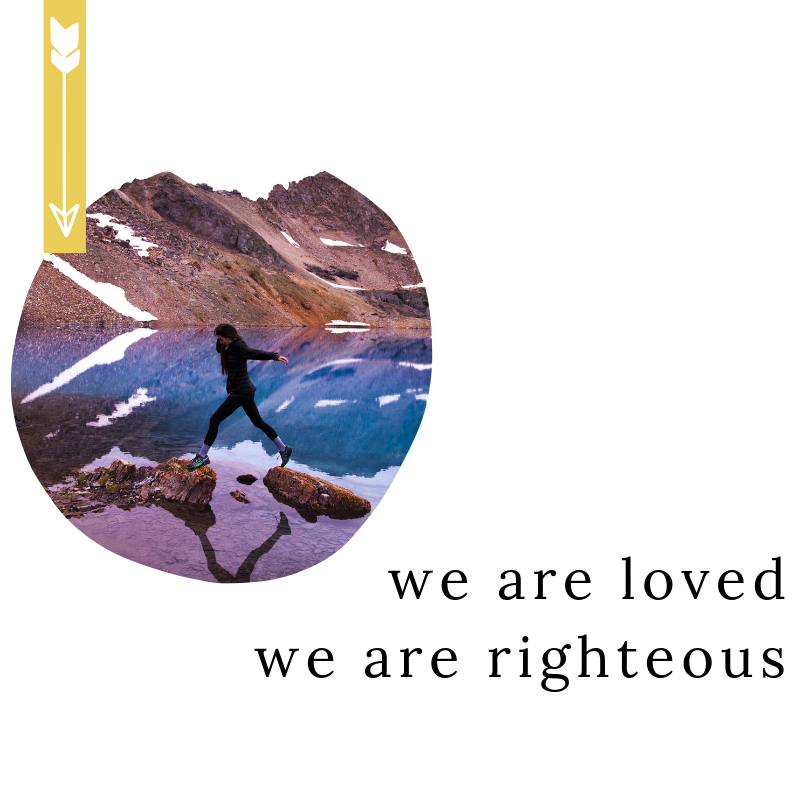 "Who am I?" I recently revisited this question as I found myself in yet another period of transition. When I left home for the first time, I asked this. When I got married, had my first child, sent my children to school, moved states. Each time a big change happened in my life, I explored my identity.
Every single person who walks planet earth asks themselves this question at some point in their lives. 
Growing up, I placed my identity in what I could do. I was athletic. My talents in gym class helped me avoid getting picked last for the team. I lived for the recesses where my class would play kickball. Additionally, I loved camp and youth events where athletic competitions would be held, and I lived and breathed sports all throughout school. I was an athlete.
But fast forward a few years, a marriage, and three kids later, I couldn't run a mile to save my soul. I may do a little light jogging (to the coffee pot and back—can I get an Amen?!), but I couldn't care less about being athletic (in shape, yes, playing a sport, no). It's crazy how such a big part of my younger years doesn't even make an appearance in my adult life. 
You see, it is so important that we don't place our identity in what we do, because as I've experienced, this can change from season to season. If we place our identity in something that can and probably will change, then when we no longer do that thing, there is a potential to lose ourselves. To attach our security to what we do is similar to standing on shaky, unstable ground. But, I've learned that true stability, calling, and freedom are found when we place our identity not in what we do, but rather in who we are at the core.
What we do will change, but who we are never will. 
So, who am I? To find the answer to this age-old question, I had to look to the One who specifically designed me: God—my Creator. Just like when we need answers to tech problems, I call the company who designed the product. When we have questions about who we are, we need to go to the one who designed us. 
I've learned two things about my identity which forever altered the trajectory of my life. Two things that will never change. Two things that set my feet on a solid ground of security.
1. I am loved. God loves me, just as I am. 
"Even before God made the world He loved us and chose us to be holy and without fault in His eyes." Ephesians 1:4 NLT 
How good is this verse? I mean, did you know it was in the Bible? Before God even made the world, He chose me to be set apart and different than the world, He loved me before I did a thing, and get this: without fault in His eyes?! Man, I'm telling you the blood of Jesus must be strong to forever cover all my faults! This sentence is POWERFUL y'all; believe it! You and I are LOVED, apart from anything we do. This is who we are.
2. I am righteous. In Christ, I've been made right with God. 
"God, in his grace, freely makes us right in his sight. He did this through Christ Jesus when he freed us from the penalty for our sins." Romans 3:24 NLT 
Did you know righteous means being right with God? Did you know when you placed your faith in Christ, you were made right with God—eternally? This is the Gospel. Jesus did for us what we could NEVER do for ourselves. He was completely righteous and decided to pay for, cover, and remove all our sins and gift us His righteousness—His right-with-God standing- so we could be connected to the Father forever. I mean, what a Savior! Again, being righteous is another thing I don't "do" to be. I am because of my faith in Jesus. 
We are loved.
We are righteous.
Friends, there is so much freedom in these two truths. We are loved by the God of the universe, not because of what we do, but because of who we are: His children. And as followers of Jesus, we have been made right with God once and for all through the work of the cross. Hallelujah!
Yes, our seasons will change. Our job titles may shift. Our roles at church, in the home, or with our friends are going to look different as time goes on. But these truths are universal and unchanging: we are loved, and in Christ we are righteous. Standing on these rock-solid truths gives us a firm foundation from which to grow into our full potential. Through embracing who God says we are, we experience freedom and security.
When I finally believed I am loved and righteous, I cannot tell you the explosion of purpose, calling, and dreaming which took place in my heart. If you will dare to believe that God is over the top in love with you right now and He made you righteous in Christ, your life will change. I know this because I lived this. It is time for a change. Friends, God is on a mission to invade the world with His Kingdom power, and He needs you to step into your position, secure in His love and His righteousness. Stand tall and step into destiny. 
Want more?
Are you exploring the question, "Who am I?", or do you want to learn more about your identity? Pray the following prayer with me, and check out my latest book THE AWESOME ONE: Unearth who you are, by knowing who He is. I'm sure you'll find some more answers, hope, and freedom within those pages. 
Dear God,
I don't want to live insecure; I want to be the bold person you've called me to be. Help me to believe you love me. I pray to experience your love in a tangible and fresh way. And, I'm really trying to figure this "righteous in Christ" thing out. Can you teach me about this? Send me Scriptures, messages, and resources that unpack the Gospel in a new way. I want to be on fire for You. Fill me with Your Spirit, presence, and love. Renew me and set my feet on the solid foundation of truth in who I am. I pray all this in Jesus' mighty name, Amen.
Author | Amber Olafsson