No doubt, writing is a spiritual gift. Odds are if you follow our blog you're a writer or you want to be a writer. Here's the thing, writing can be intimidating. Sometimes writing can be painful. Maybe you're writing out a story in your life that brings back whirlwind of uncomfortable emotions. Maybe you're at a point in your writing where you feel stuck and you don't even feel qualified to call yourself a writer anymore. As a writer, one of the most frustrating obstacles is not being able to find your words. Or maybe you're a busy parent of three with a full time job and desire so badly to write, but you can't imagine making it a priority in your busy day.
Dear friend, writing can be painful, but it can also be the most healing pursuit you set out on. Writing brings freedom. It's the act of pouring out thoughts from our own minds and making them tangible. What this then does is free up our imagination to create new thoughts and then the cycle repeats. I don't know about you, but as a writer myself, as soon as I feel a new thought hit my brain I have to write it down because I am so scared I might forget it. Once I write it down I feel like my mind is free to think new thoughts.
Putting pen to paper or fingers to keyboard can also feel like laying down burdens. Some things we write are never meant for others to read. Writing out our deepest darkest secrets can feel a lot like throwing off old chains. That's freeing. Author Brian Dixon once said, "Writers write for themselves, but authors write for others." I want to encourage you to be a writer and an author. Write because it brings you freedom and then be an author to bring that freedom to the hands of others.
Let me encourage you to be fearless in your writing. It's so easy to fall into the trap of being fearful of vulnerability. That's what fear is – a trap. Fear keeps us writers from putting our thoughts, ideas, creations, revelations, and most importantly God's words down on paper. Someone needs to hear those ideas you have. Someone needs to hear the word God has given you to write out. I'm going to leave you with one of the verses I've been speaking over my own life and especially over my writing. It's 2 Timothy 1:7, "For God has not given us a spirit of fear, but one of power, love, and sound mind." Speak that verse out loud every time you sit down to write the words God has pressed on your heart. You have not been given a spirit of fear; therefore, you have the freedom to write all God has called you to. As writers, we are called to use our God-given gift to bring freedom and unity. So settle in to what God is telling you to write and bring the freedom!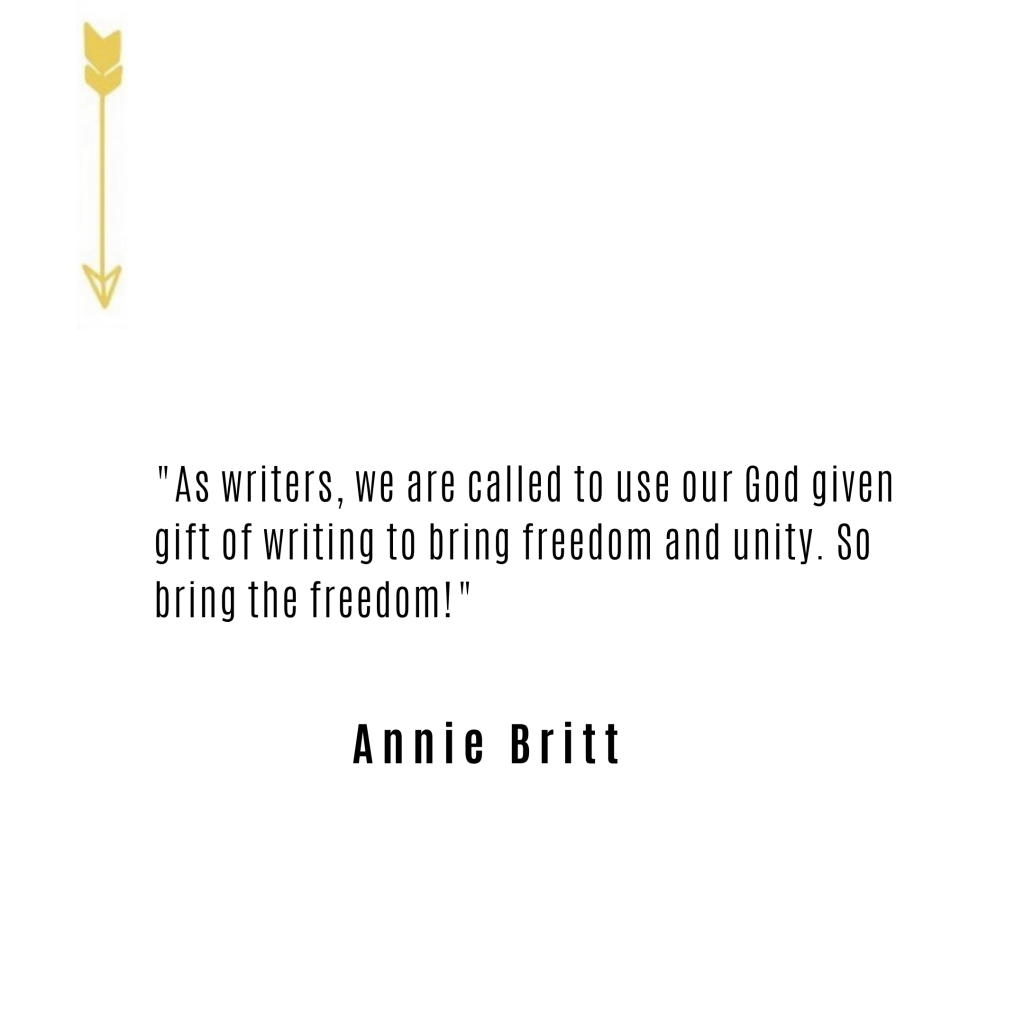 Author | Annie Britt