If I were to ask every single one of you to tell me one thing just this week alone that was hard, you would each have at least something to tell me. If I were to ask you to go further and to tell me about one thing in your lifetime that has been hard, the list would go on and on.
Life is hard.
When I was a junior in college, my parents loaded the back of my car with a fifty-pound suitcase, a carry-on, and a backpack filled with ministry items. I had my passport ready, and I was heading to Europe to do missions in Barcelona, Spain with my church. Once I finished my time in Barcelona, my boarding pass was sending me straight to Lisbon, Portugal. There, I was going to spend another month working alongside my cousins' church plant. I was excited. At this point, I'd been overseas before and I was ready to see what God would do this time.
When my church group got to the airport, the excitement was tangible. We talked about the people we would meet, the places we would see, and the things God would do once we got there. Pretty soon, however, our excitement began to wear off. On our first flight, where we were to land in Philadelphia to board our connecting flight, we sat on the run-way for two hours. When we asked what was going on, we learned that birds were sitting on the run-way, and because of the safety of both the passengers and the birds, we were sitting and waiting on them to move. Our excitement was replaced with frustration, and eventually it turned into great disappointment—we'd already missed our connecting flight, the one supposed to take us from America to Barcelona. Once we finally landed in Philadelphia, we made ourselves comfortable in our terminal. After talking to the airlines and spending countless hours on the phone with our travel agent, we were promised we would board a flight to Manchester that night.
When midnight arrived, we did not get to board our flight—it had been canceled. At this point, we were devastated. It appeared that we would never make it to Spain. There were no more flights leaving for Spain for days, and the planes heading there were already filled. All the planning—all the excitement—all the anticipation—wasted. Barcelona would be no more than a dream, and I was even more devasted that this would mean I would not get to Portugal either. We spent a lot of time processing, preparing for the airline to get us our plane tickets home.
Life is hard.
However, after 23 long hours in the airport, we were finally able to board a flight—to Barcelona. While it did not seem possible for us to find tickets, the Lord made a way. Half of our team drove into New York City to fit onto another plane, and the other half continued to sit on the hard, carpeted floor of the Philadelphia airport—waiting. We were already told to prepare to go home, but we did finally arrive in Spain. Although we were all exhausted from three whole days of travel, and although we hadn't gotten to shower or change clothes in three days, we were welcomed into the city and immediately began ministry. Although it seemed like the Lord had prepared us for Barcelona and then shut the door, instead He was writing a story that I could not (and would not) have written on my own. The time in the airport was a very trying time, but it was very important to the ministry we did in Barcelona.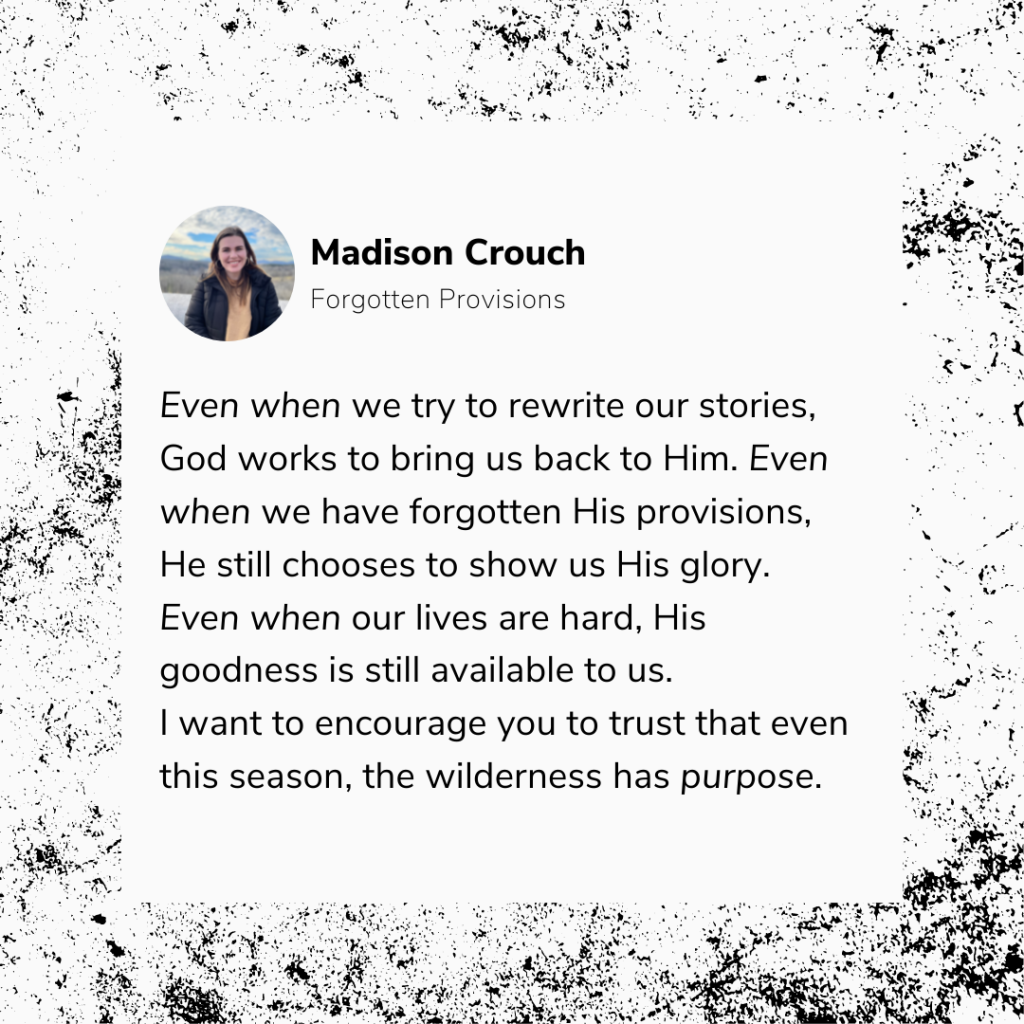 Many of you have had life experiences similar to this. One small thing after the other leads to a lot of disappointment, and over time God's promises begin to look like simple suggestions or even lies that would never happen.
Many of you have also experienced disappointment far greater than being stranded in an airport for 23 hours. I use the example of the airport because it is a story I look back on and laugh about now. It was a story of a time where, in the moment, I felt like there was no way God was going to provide for me. However, the ending of the story was even better than I'd ever even imagined. He'd fulfilled His promise to me, and it ended up being a good story. But, what about the times in life that don't end the way we want them to? What about the times in life that are far more difficult than this? Can God still be good in the midst of those stories as well?
The Cancer.
The sudden change of plans.
The excruciating waiting.
The infertility.
The chronic illness.
The list goes on and on.
There was a group of people in the Bible who understood these disappointments, too. They were a group who lived in the midst of the goodness of God, yet still experienced extreme disappointment. They saw God work great miracles in their lives, but they also knew His silence all too well. They had been promised life in abundance but instead found themselves forced into a life of isolation: the Israelites. If you know me at all, they are my favorite group in the Bible to talk about.
In Exodus 32-33, God has asked Moses to bridge the gap between Him and the Israelites. They had been living in complete bondage as slaves to the Egyptians. However, God had better plans. God sent Moses to speak on their behalf to Pharaoh, telling him to "let my people go". (Exodus 5:1). After sending many plagues to the Egyptians, Pharaoh had no choice but to let God's people go. However, he did not make it easy on them. This story is a very beautiful story for all of us to read because God performs many miracles to help release His people from the bondage of Pharaoh to His promise of freedom. They tasted the goodness of God, seen that He was good, and they were walking towards His promise to them.
However, there is proof that their faith was not perfect. Despite what they'd seen God do up until this point, they were still hungry, tired, and nowhere near the promise they had been given. They'd seemingly gone from one bondage to another, and there was no hope left to be found. Moses had gone up the mountain to meet with the Lord on behalf of the people of Israel. In their anxiety of His timing, they surrounded Aaron, the man chosen to help Moses bring God's people to the Promised Land.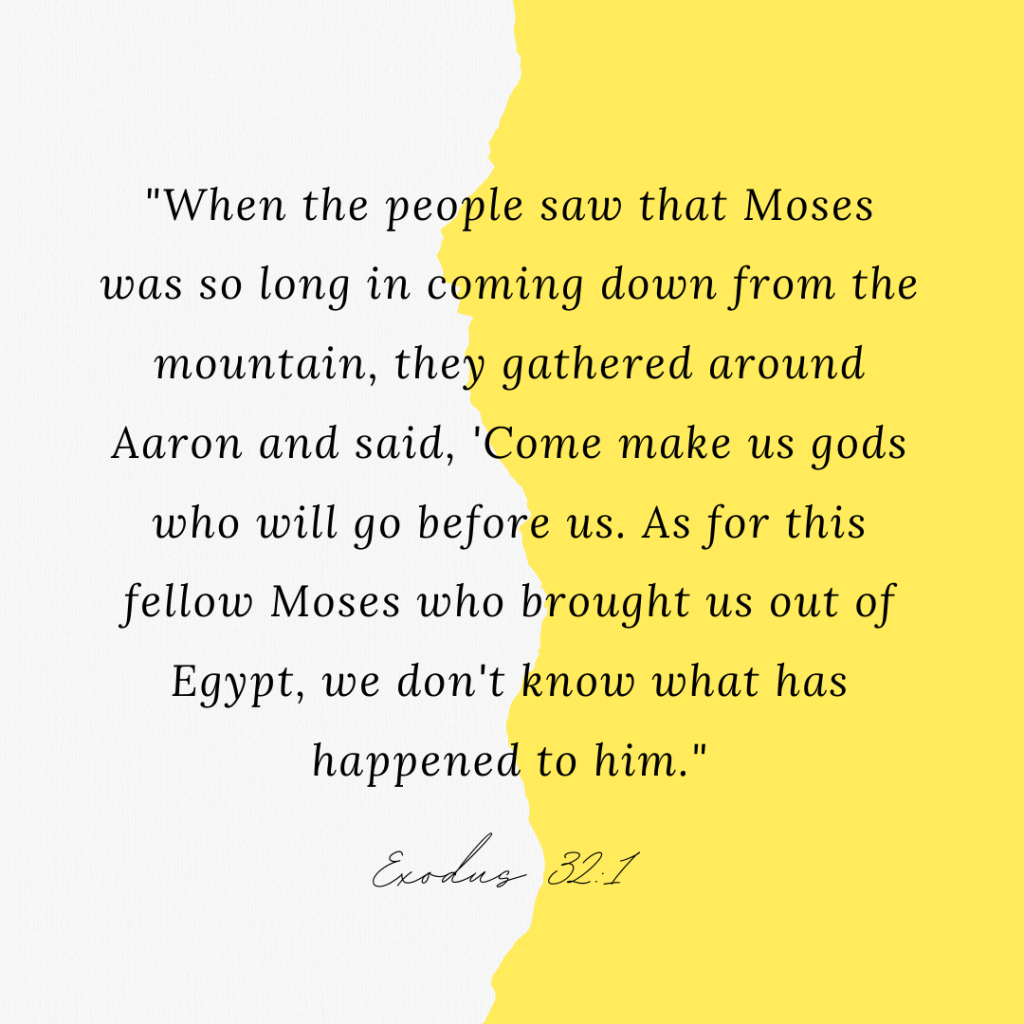 In their doubt that God would fulfill His promise, they began forming a new plan that better matched their abilities and end goals. If they created multiple new gods, they believed they had a better chance at finding the freedom they had been promised. Aaron, a Godly man caught between God's provision and angry people, took their golden jewelry and helped them build the gods they desired. And in that moment, they began worshipping those new gods. They said, "These are your gods, Israel, who brought you out of Egypt." (Exodus 32:4 NIV). They worshiped these gods, forgetting all that their Heavenly Father had done for them because their circumstances and timing did not line up with what He'd said. Instead of remembering what God had already done, they worshipped false gods for what they hoped they would do.
The Lord, seeing their disobedience, became very angry with them. But, because of Moses, the man He'd destined to bridge the gap between Him and His people, He worked to bring His people back to Him. While they were punished for their sin against the Lord, He still worked to bring them back to Him—and to His promise for freedom in a land He'd been leading them to all along.
God was not shocked with their forgotten provisions.
God was not swayed by their lack of faith.
God was not unforgiving of their disappointment.
God, in His kindness and mercy, simply wanted His best for them—and He was the only one who knew what that was.
How often are we like the Israelites?
We've seen God provide—we've heard His voice—we know His goodness—yet when His timing doesn't line up with ours, we fight to rewrite the story. We strive to make plans for ourselves. We grow angry or weary or disappointed with Him. We put all of our hopes in everything or everyone else but Him. We forget His promises, or we believe the lie that He has forgotten us. We talk a lot about the ways He provided in the past without believing He can provide in the present, or we give ourselves and other people credit for the work God has done.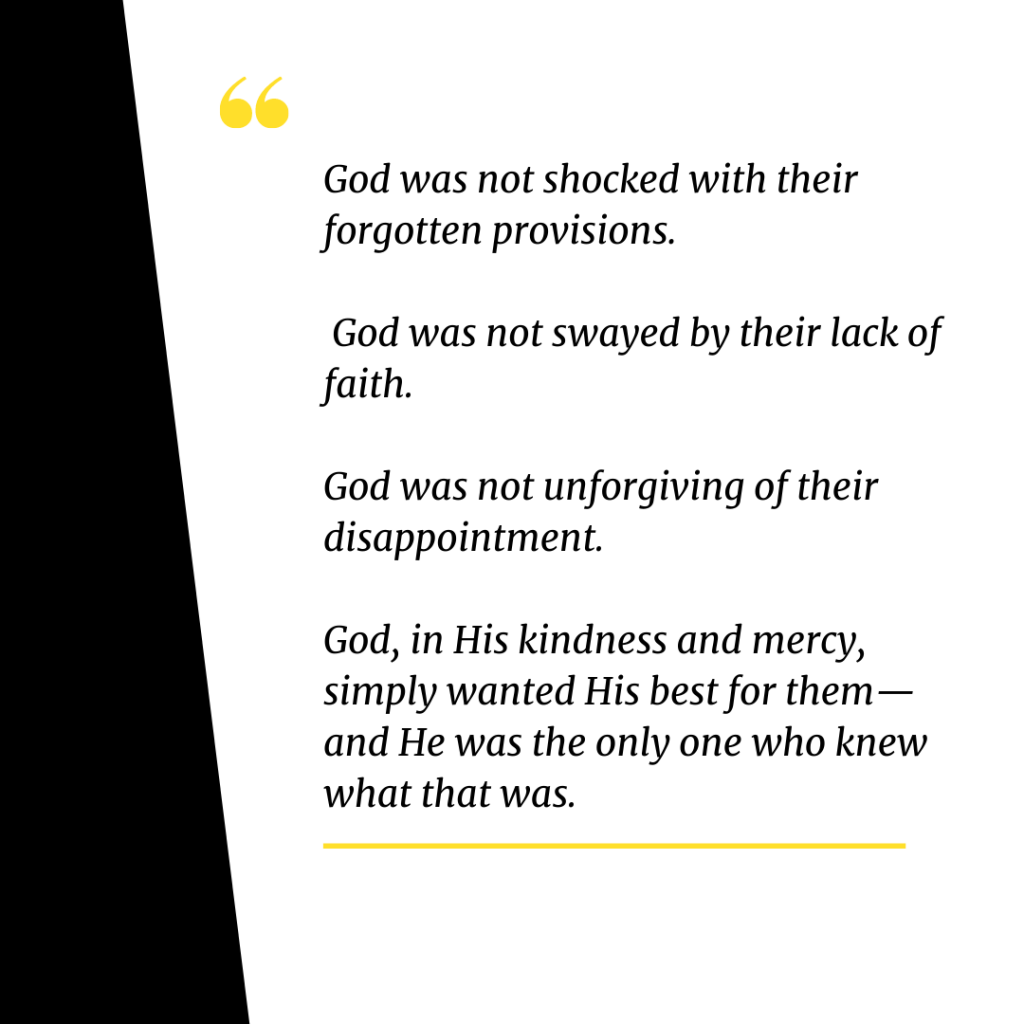 Life is hard.
Even in God's anger and disappointment towards them, Exodus 33 shows us a very different side of the Lord. Moses has gone to meet with the Lord again, and He is desperately pleading with the Lord to simply help them. At this point, even Moses was struggling with God's promise to them.
12 Moses said to the Lord, "You have been telling me, 'Lead these people,' but you have not let me know whom you will send with me. You have said, 'I know you by name and you have found favor with me.' 13 If you are pleased with me, teach me your ways so I may know you and continue to find favor with you. Remember that this nation is your people." 14 The Lord replied, "My Presence will go with you, and I will give you rest." 15 Then Moses said to him, "If your Presence does not go with us, do not send us up from here. 16 How will anyone know that you are pleased with me and with your people unless you go with us? What else will distinguish me and your people from all the other people on the face of the earth?" 17 And the Lord said to Moses, "I will do the very thing you have asked, because I am pleased with you and I know you by name." 18 Then Moses said, "Now show me your glory." 19 And the Lord said, "I will cause all my goodness to pass in front of you, and I will proclaim my name, the Lord, in your presence. I will have mercy on whom I will have mercy, and I will have compassion on whom I will have compassion. 20 But," he said, "you cannot see my face, for no one may see me and live." 21 Then the Lord said, "There is a place near me where you may stand on a rock.22 When my glory passes by, I will put you in a cleft in the rock and cover you with my hand until I have passed by. 23 Then I will remove my hand and you will see my back; but my face must not be seen."

Exodus 33:12-21
Despite their doubt—despite their questioning—despite their anger—God promised to be with them (Exodus 33:14). Although their circumstances told them that He was far from them, He was actually walking beside them all along. When Moses told the Lord that He did not want to take a single step further without His presence with them, the Lord instead told Him that He was already with them. When Moses asked the Lord to comfort His people in their disappointment, He told him that He'd found favor with them—that He knew them by name (Exodus 33:17). And when Moses asked the Lord to show them His glory, the Lord promised that they would see His goodness. He promised to have mercy on them, and He promised to have compassion on them—the only thing He withheld from them was His face (Exodus 33:19-20;23). Because of His magnitude, He knew that none of them in their sinful nature could ever see His face and live.
Even in their doubt, the Lord promised to be near to the Israelites—and He was. They got to walk toward the promise of God, and they eventually saw His goodness in their lives. However, we do not live in the same covenant with God that they were bound to. They got to see the goodness of God, but they did not get to know Him intimately. The Lord sent Moses for them to be their in-between.
There is no longer a need for someone to bridge the gap between us and the Father.
There is no longer a great divide between us and the Lord.
Written throughout the pages of Matthew, Mark, Luke, and John, we get to read about the life of a man who would eventually bridge the gap—forever.
Because of the work Jesus did for us on the cross, we get to know Him intimately. We get to see His goodness and glory, not from a distance, but within us—within our circumstances—within His perfect plan and timing. We get to go to the Father with all of our doubts—in His plan—in His power—in His purpose—and we get to have honest conversations with Him about them. There is no longer a threat of His wrath in our doubt—there is repentance and forgiveness.
Life is hard, but I do not want for you to miss the most important message God gives us through Exodus 32 and 33—His plan is far better than anything we could ever plan for ourselves. Anything else we turn to will lead us to ultimate destruction. His mercy and goodness and glory are with us, always.
If you resonate with the story of the Israelites—you doubt His plan, you hate His timing, you feel as if He has abandoned you—I hope you find encouragement in the story I shared with you today. Our story did not end with the Israelites. It went further, and it led to the life of Jesus.
So now, even when we doubt, we can walk intimately with the Lord.
Even when we try to rewrite our stories, God works to bring us back to Him.
Even when we have forgotten His provisions, He still chooses to show us His glory.
Even when our lives are hard, His goodness is still available to us.
I want to encourage you to trust that even this season, the wilderness has purpose.
Because they'd been enslaved to the Egyptians, they got to see God perform a rescue mission to bring them to Him. Because they'd been led into the Wilderness, they were able to identify a heart problem that could ultimately separate them from God and fix it. Because Moses was bridging the gap for the Israelites, they eventually got to find the promise of God in the land He had for them. Despite all of this, His promise to them was still true.
Because of Jesus, you get to come to Him in your doubts and questioning and find healing. Because of His mercy, you get to struggle through what you are walking through without damaging your relationship with the Lord. Because of His compassion, you get to pray honest prayers to the only one who already knows. And because of His authority and creativity, your story is already written. Despite all you are walking through, His promise to you is still true, too.
So, let me ask you, what has God promised you?
If you don't remember, go back to the last thing He told you, and walk toward it with confidence that even when His timing is not ours, He is still working. Trust His promises, and even if it doesn't seem like they are going to happen in your timing, trust His character—and know that He will fulfill His promises to you.
Do not forget that this season of your life has purpose.
And, while you're at it, take the time to thank the Lord for His gift of Jesus. Because of this, we get to know Him—and that is the most beautiful gift of all.
Madison Crouch lives in Mississippi with her pup she adopted over a year ago. She is obsessed with coffee, journals, and traveling. She is currently interning with UHP as a content editor, and she works at a church. She loves writing, and she is excited to see where God takes her with her passion for writing. 
New International Version. Biblica, 2011. Bible Gateway, www.biblegateway.com/versions/NewInternational-Version-NIV-Bible/