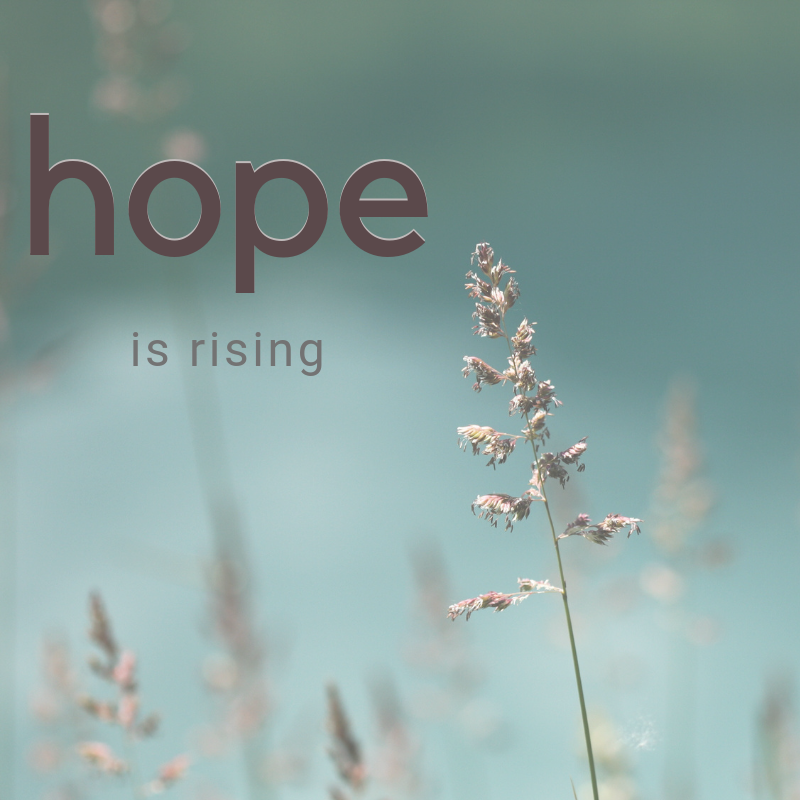 Not only that, but we rejoice in our sufferings, knowing that suffering produces endurance, and endurance produces character, and character produces hope, and hope does not put us to shame, because God's love has been poured into our hearts through the Holy Spirit who has been given to us.
Romans 5:3-5 ESV.

There is a movement of hope happening right now. In every sphere I find myself in, in every body of believers I interact with, I see God depositing a fresh hope in His people. And this hope is not something that can be manufactured. It's something that comes as a holy complement to our faith. As our faith rises, our hope rises.

The passage above is my favorite in all the Bible. For one, it's beautifully worded, and I can always appreciate that. But more importantly, it teaches us how to move through our suffering toward the love of God. It literally gives us a blueprint of what is happening in us as we experience suffering and how we should actually rejoice in it instead of resenting it. Let's dissect it.

We rejoice in our sufferings.
We aren't expected to enjoy our pain and hurt. We aren't even expected to grin and bear it. When in suffering, we are experiencing something that we would have never chosen for ourselves, but don't miss it. Because of our faith, we know that suffering is for a purpose, and it has value. Rejoicing in suffering means recognizing trials as the cause of joy. We will experience joy to a greater measure if we allow God to meet us in that suffering. If we come out the other side of suffering knowing God more fully, that is worth rejoicing over. As we reflect on our lives and see areas where God met us in the midst of suffering, it will fuel us for the next time we're in the midst of hard things, because we know how to find God there.

Suffering produces endurance.
Going through hard things without giving way is what creates a spiritual endurance within us. As we hold steadfast to the truth, we develop a greater perseverance to handle even more challenges of increasing difficulty throughout life. This is good spiritual discipline, knowing that in the midst of your current suffering, you are being prepared for what will come. Suffering for believers on earth is a biblical guarantee, so we must learn how to suffer well.

Endurance produces character.
Persevering is what helps increase in us the qualities that are meant to distinguish us as believers: dependance, diligence, faith, gratefulness, obedience, and patience, to name a few. As we endure, God is molding and shaping us into the people He has created us to be. By being submitted to Him in the process, we allow Him to increase the caliber of our character, and ultimately, we're better people because of it.

Character produces hope.
As God builds our character, we're able to understand how much bigger He is than our circumstances and see beyond them. When we are confident of God's ability to move in our situation, we can have hope both for the moment and for the future. This hope isn't in an outcome, it's in who God is. Our hope is always in the fact that God is not done, and He has ultimate victory. And because of a strengthened character, this hope is unwavering.

Hope does not put us to shame.
We will not be humiliated for putting our hope in Jesus. We will never be disappointed in putting our hope in God's goodness because that's what we get forever. And we can be confident of this because of the promise of His love for us and His gift of the Holy Spirit. In Him, we have everything we need, and we can hold onto the assurance of that for eternity.

So let hope arise. Wherever you find yourself today, let God convince you of who He is, and make the choice of putting your hope in the person of Jesus.

Prayer
God, we can confess that without You, we have no hope. But we know that in You, we have hope for the future and hope in Your promises to us. So raise the hope in us. Take us and mold us into the people You desire us to be, and give us a grace to hope for more of you.
Amen.

Author | Kalli Drake