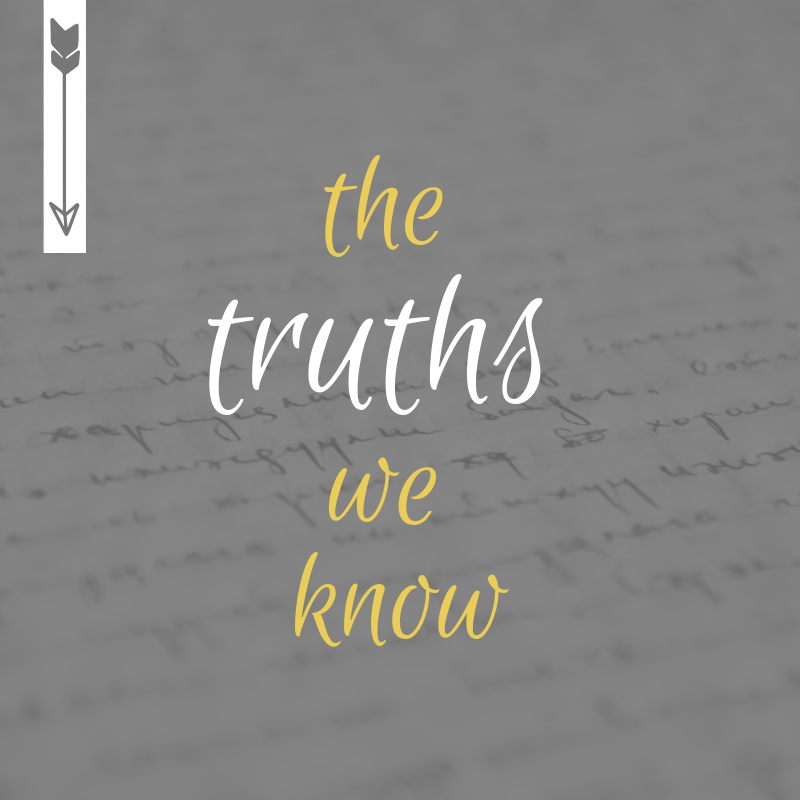 Welcome back to the blog! We're excited to launch our new series – The Truths We Know. In our last blog theme, we spent time getting to know our identities and celebrating our individuality through the lens of a loving Father who doesn't make mistakes. In this series, we want to take that one step further. We know how we're uniquely created, so what are the truths that we specifically, individually know about God that we have to give away to the world?
Firstly, this series is all about sharing who we are with a world that needs us to be us. Whether it's what's in our DNA or it's what we've fought for over a long period of time, there are things we know about God that the world is dying to hear. Secondly, we're all wired a little differently. We want to discover ways we most naturally relate to God, things we most deeply understand about His character that can help others know Him more clearly or experience another side of His nature.
I recently read a quote from Glennon Doyle that says, "There are as many sides of [God] as there are people walking the earth. I think that's why He keeps making people. He's not done telling us about Himself yet." It's just soul-piercingly true. Every person represents something new we can learn about the heart of God, an opportunity to know Him more deeply. In this series, we want to give what we were meant to give. But we also want to receive what we're meant to receive from others being who they're meant to be.
The Tool We'll Use
As we go through this series, we're going to be using the Enneagram as a tool for exploration and discovery. If you aren't familiar with the Enneagram, we invite you to visit this link to learn more about what it is and how it can be used for personal growth. We will be featuring a post for each of the 9 Enneagram types where we've interviewed believers about what they are most deeply convinced of about God, what they most want the world to know about Him, and more. Through this process, we encouraged our interviewees to answer questions personally, drawing on their own life experiences and relationship with God, not trying to fit into a box of their type. We do think there might be some similarities and common threads within types, which will be fun to explore together.
We hope that you'll soak up all you can from each writer and interviewee throughout this series. May we all know the nature, character, and heart of God a little more deeply through each of the truths shared in this space. It is our prayer that we would generously give away the truths we know, because what we know might be what someone else is dying to discover.
Author | Kalli Drake