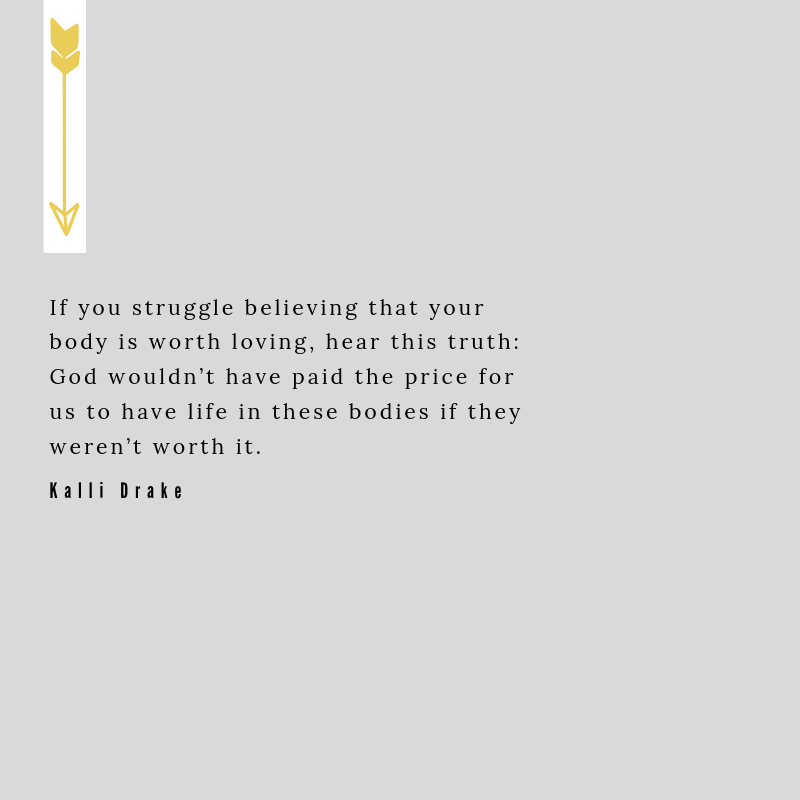 If you've had a conversation with me or read anything I've written, you can probably tell that I'm passionate about learning to love your body. This passion is primarily geared toward women, but I don't mean for a second to exclude men from the body image conversation. My typical approach to this topic is to tell you my story of victory over body image struggles, to stop you in your tracks if you try to say something negative about your body, and to try to convince you of the biblical truth that your body was intentionally designed and created by God. He loves every single thing about you.
But no matter how many blog posts you read, no matter how many Instagram posts you see, no matter how many conversations you have with me, they don't all add up to victory over body image struggles. You have to make intentional choices about your thought life. You have to decide that you want the healing available to you over the areas of your life that have been damaged by believing lies. Choose truth. 
And that all sounds so great. Taking thoughts captive, choosing healing, replacing lies with truth. But the questions I most often get about this topic sound a lot like this: "But how do I actually do that? How do I become confident in my body without needing to change it? I know all the scripture about being fearfully and wonderfully made and being God's handiwork, but how do I begin to believe that when I haven't for so long?"
Totally valid questions. I would love for just the sharing of my victory to then equal your victory over the same things, but the reality is my victory was fought for in the trenches over a long period of time and with a lot of ups and downs. Why should I expect yours to be any different?
So today, I'm here to give you my most practical advice for learning to love your body so much that it actually becomes your sanctuary. 1 Corinthians 6:19 calls our bodies sanctuaries that the Holy Spirit lives inside. Far too many people experience the opposite of sanctuary within their bodies. I pray that with commitment to truth and healing, that story is rewritten.
What does the Bible say about our bodies?
It feels like every time I open my Bible, I read something that teaches me more about what God thinks about our bodies. Every popular scripture you can think of on this topic is true (Psalm 139, Proverbs 3, the entire book of Song of Songs), but there is even more to be explored throughout God's word that can help us bring our thoughts into alignment with His.
One of the chapters of the Bible I've used to frame so much of my perspective on body image is the one mentioned above, 1 Corinthians 6. This chapter talks about the value of our bodies, the price paid for them, and the honor due to them as temples of the Holy Spirit. If you struggle believing you can love your body, hear this truth: God wouldn't have paid the price for us to have life in these bodies if they weren't worth it. He set the value of our bodies on the cross, and we can honor that by respecting them in all ways.
Furthermore, God is glorified in our enjoyment of the things He died for us to have. This includes our bodies. I'm sure it hurts Him to know how much we can loathe them at times, or how much we wish they would change, or how just looking at them can kill us on the inside if body image is something we deeply struggle with. He's broken over how the world has morphed our bodies from vessels that hold life into flaw-ridden inadequacies. This is not the abundant life. I believe glory is brought to God as Creator when we celebrate, honor, and enjoy our physical bodies.
2 Corinthians 5 talks about our resurrection bodies, the bodies we will live in when we are in eternity with the King. God has already thought these up. He knows what they will be like, and He has given us a glimpse of the real thing here on earth. I like this chapter in the Passion translation because it describes our bodies as tents, therefore a temporary home. Verse 4 reads, "So, while living in this "tent," we groan under its burden, not because we want to die but because we want these new bodies. We crave for all that is mortal to be swallowed up by eternal life." 
How many of us can say we've groaned over our bodies? Know that I'm raising my hand here. I've groaned because my body doesn't look the way I would ideally have it look. I've groaned because I'm frustrated with things I perceive as imperfections. The verse specifically talks about groaning for the resurrection body, not in spite of this one that we have. I believe it is essentially saying "We groan over these bodies, not because we don't like them and we want to get rid of them, but because what is waiting in heaven is infinitely better and we are so focused on that, we can't think of anything else." 
Let the only time you groan over your body be because you are so hopeful for eternity that you are just dying to get there. If you groan in resentment toward your body, you will be missing just how great it is now.
How do I begin to experience my body as a sanctuary? Or in other words, to feel at home and at peace in my own skin?
Learn what God has to say about your body in His word. This is step one to aligning your thoughts with God's truth: knowing the truth. Dig into scripture, wherever you are in it, and see what you can find about what God says about your body. Knowing the truth is what sets us free.
On a very practical note, stop using the word "fat" as an adjective. If this word is in your vocabulary, eliminate it as a descriptor for yourself and for others. In my mind, "fat" is a noun, something we all have on our bodies. I don't know at what point I had so much of it on my body that I crossed an imaginary threshold where "fat" became something allowed to be attached to the end of an "I am…" statement.
By using that word in this way, it's become a part of my identity. "Fat" is not something you are, especially if that word has a negative connotation to you. I believe the intentional choice to eliminate it from your vocabulary will affect your thought life in a positive way. When tempted to say or think "I am fat," replace that with "I am beautiful," "I am worthy," "I am confident," "I am strong," "I am chosen," "I am enough," and "I am loved." 
Just like with anything else, we are to take captive every thought and make it obedient to Christ. Ask Him to highlight the thoughts about your body that don't sound like Him. Repent for listening to them. Then, ask God to fill you with His truth. This is how we claim victory over lies. It is a process, and it takes the dedication to go through it each time a lie creeps its way into your consciousness. Over time, it will become less of an effort and more of a subconscious choice to agree with truth. Then, you will know you have overcome the lie.
Try this exercise to help you discover what you think about your body, the thoughts you need to take captive. Write a description of your physical appearance in the third person as though you were describing a character in a book. What are the things you refer to more lovingly? What are the places you're tempted to give negative descriptors to? Allow whatever comes up to surface during this exercise. Awareness always breeds change. When we know the lies we are tempted to believe, we can tackle them with truth. If this feels difficult or daunting to you, warm yourself up to writing about yourself by describing your personality in the same way. Spend some time describing who you are as a person to ease into discussing your body. It might be difficult at first, but practice and commitment will get you places with this one.  
Lastly, practice celebrating your body. Try this when you're standing in front of a mirror getting ready each morning: speak loving things over your body, out loud. Start with your favorite features. "I have beautiful eyes, hair, and skin." Once you've given some time to that, it will create courage to move onto things that are harder to appreciate. "I love my nose, my smile, and my cheeks." Then, as you gain bravery, try celebrating the things you find it extremely difficult to love. "My stomach, hips, and chest are beautiful." "My acne and my scars aren't ugly." "I love my arms and legs and hands and feet." 
Pick a few things at a time; repeat them over yourself in the morning for a week or two or three. Maybe months or a year. Have your process. I believe God will transform your mind. Sometimes if you declare something long enough, you'll actually start to believe it. An added side effect: you'll probably celebrate more beauty in other people too. Allow God to move your body from your biggest insecurity to your greatest instrument for His glory.
My heart with all of this is that people would be freed up to live their fullest lives because they can accept, celebrate, and love every part of themselves. I believe this is how we change societal culture. If we teach ourselves and others to practice kindness towards our bodies, then we remove the pressure to be or look any certain way. We are then free to take care of ourselves without a more destructive motive of "fixing" ourselves. Our bodies do not have to cause us emotional pain. We can take that ground back. We can overcome lies. Victory is real. Healing is possible.
God loves every single thing about you so much that He would die for you to have it. He created you, and He doesn't make mistakes. Let's lean into His heart together and run with that truth into the abundant life.
Author | Kalli Drake