At 39 years old, I was married with three beautiful children and one in the oven. I was a believer in Christ and believed that if I were perfect enough, any miracle would be possible with God. He would answer my prayers because I worked so hard to be so good.
Some of you are laughing, saying," yeah, good luck with that," and others of you, now my "girlfriends for life," are saying, "well, yea, what's wrong with that?" A lot. I found out the brutal way that this way of thinking is absolutely and completely wrong. So, if you struggle with the temptation that your works can move God's hand to give you what you want, please see this as a warning.
I prayed, fasted, and tried hard to follow all the 10 Commandments. Now I see I was bargaining with God. I was storming the gates of Hell, trying to work for Him to fix my life that was unraveling with tremendous heartache.
---
Praying for a Miracle
One of my big prayers was for my marriage. I had suspected my husband was cheating for years; later, he admitted it. We had many, many years of counseling before and after the confession. I prayed that God would stop his wandering eyes from desiring other women. I even prayed my three beautiful children would not be scared of his rage, verbal abuse, and the bitterness and broken heart I tried to hide.
Then we had received a diagnosis for my sweet little bundle in my belly. At 20 weeks gestation, she was diagnosed with down syndrome and heart problems. She would need open-heart surgery at four months old.
I believed she would be supernaturally healed. I convinced my kids that Joy would be brought into this world whole because God can do anything. I was the mom who preached to my kids a lot. I would wrap life's pain in a Bible verse, like salve on a wound, hoping they would feel comforted.
Everything was hanging on God at this point. He was my only hope. I was praising God daily that He would come through for my family and heal my marriage, kids, abuse scars, and now my sick baby. It would prove to my kids how amazingly faithful God is.
I greatly feared my kids would grow up and have my life. So, I needed to believe God would show off for my kids and do these miracles. But instead, we walked with fear and dread, emotionally preparing for the next rage episode. The fear rarely left our hearts because of all the dysfunction.
---
Our Joy is Born
On February 23, 2009 our Tabitha Joy was born with Down Syndrome and heart problems. We were absolutely shocked. We all felt tricked. I told everyone she was going to be healed.
I was angry that God didn't do what he said he would do in His Word; I tried so hard. I was scared my kids were going to stop believing in Jesus. But, Matthew 21:22 (NIV) says, "If you believe, you will receive whatever you ask for in prayer." So, I took God to the bank on this one but didn't cash in.
Thirteen years later and with a much healthier perspective, I now understand why He didn't choose to heal her. I had to trust and give Him the situation and say whatever your will is, it will be perfect, and we will be fine by your grace. Just like when Jesus cried out in Gethsemane three times for a way out of going to the cross, I said, "Yet not as I will, but your will…may your will be done" Then God turned my frown entirely upside down.
---
Tabitha Joy is our joyful world changer.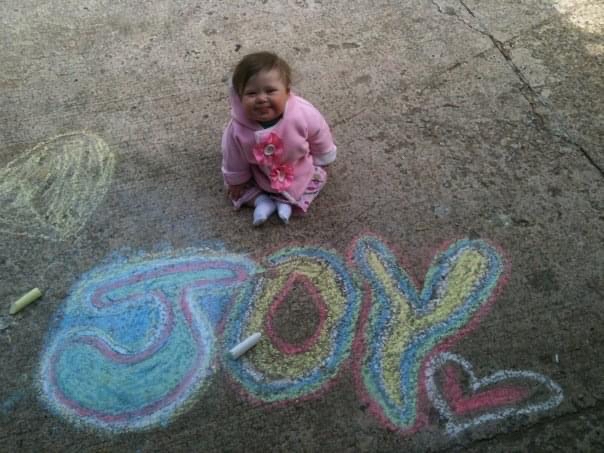 We call her Joy, and she sees people like Jesus without judgment. One day when she was two, I was holding her in a checkout line, and she turned around and puckered up to this lady behind me, and the lady leaned in and gave her a whopping big kiss on her lips (yikes!). I was shocked and horrified about the germ factor, but not Joy. (Joy gets kisses on demand, I guess! It was time to teach her boundaries)
Joy has enormous love and sincere compassion for others. I bet the angels in heaven fight over Joy because of all the love she shares. She won't stop loving on people until they respond. Her name is fitting for her, that's for sure.
She has taught us to love the unlovable, which is me sometimes. She will even hug strangers. Joy has taught my children to have compassion for people that are different. Because of Joy, my third child developed a passion for others to be understood and seen and is now in college studying to be a speech pathologist.
At first, I blamed myself for allowing this to happen to Joy since the doctor told me my egg was rotten. I now know that was a lie the enemy used in my life to strip me of my confidence and carry shame. God showed me that He allows people to be a specific way in life to walk out their calling. God knew that the people needed Joy to minister to and love on them the way she only could.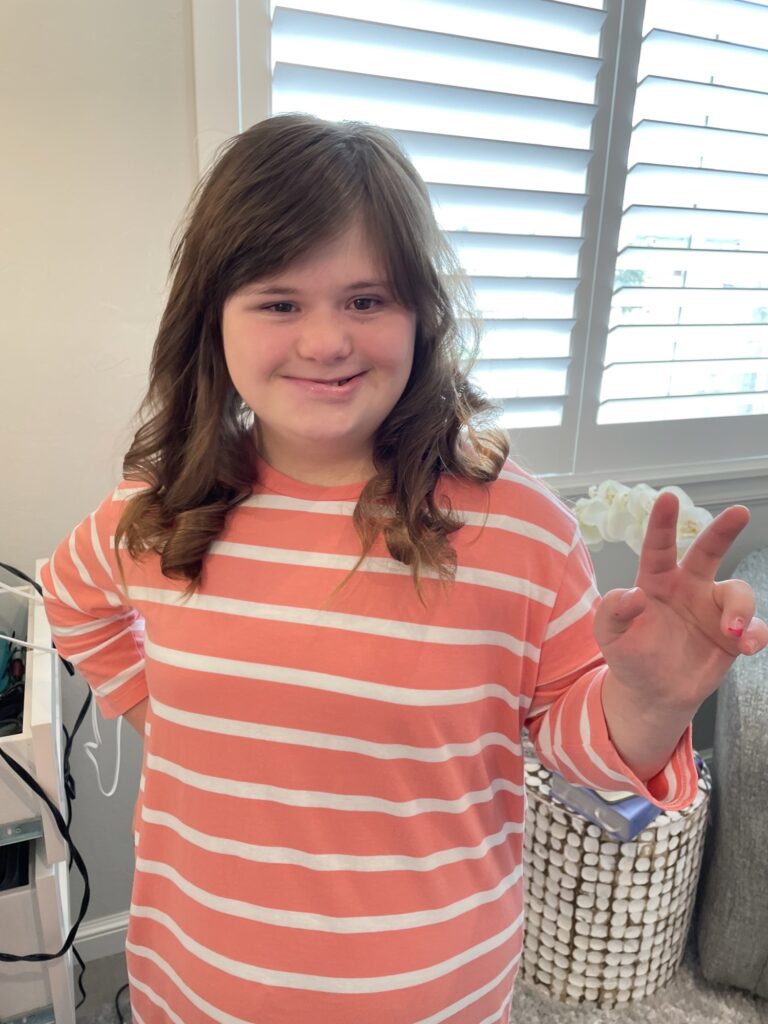 ---
Miracle in the Mess
Joy was still set to have surgery on her heart at four months. The night before the procedure, I heard a voice say, "Stay. The man's hand," as I prayed. I was so confused and wondered if that was the enemy not wanting Joy to have surgery to bring harm to her. I talked with a few people, and they encouraged me to proceed with the surgery, and I agreed.
When Joy had open-heart surgery, she coded five times while trying to recover. Later, we discovered that her surgeon was "wanted by the police" for being involved in a prostitution ring and drug use. She had to have a machine breathe for her because he cut a nerve that paralyzed her diaphragm. The last time she coded was quite different. This time she was grey; all the monitors were a flat line. They tried to resuscitate her, and nothing was working to revive her.
The head doctor looked at me and said, "why won't she breathe?" I gasped and knew this is why God told me to name her Tabitha Joy because He showed me in the Bible that "Tabitha" was raised from the dead. So I immediately said, "In Jesus' name, Tabitha Joy, rise up"! Five seconds later, the doctor instructed the nurse to get Narcan for her IV. As soon as the medicine was put into her IV, Joy gasped for air and began crying.
We were grateful, ecstatic, and shocked that this had happened. We were so thankful our sweet Jesus prepared us for this moment months back, which gave us faith to believe that He would save her at this moment. We give God all the glory for the beautiful miracle He did for Tabitha Joy.
Amazing Grace
We were immediately Medi flighted to Texas for another surgery to fix her heart and diaphragm. After landing in Texas, our ambulance broke down on the main highway, and they had to block off an exit with a fire truck so we could get on the next ambulance. With the air conditioning broken in the ambulance, they had to ice Joy down so she wouldn't go into shock.
We finally arrived at the hospital and were introduced to this fantastic surgeon who changed Joy's destiny forever. He completely fixed her heart; therefore, my heart as her momma too.
God is so good even in the messiness of it all. God's hand reached down and reversed my mistake of not postponing the surgery. He knew I would make the wrong decision and had a fix for this big mess. I saw 2 Corinthians 12:9 come alive in my life.
But he said to me, "My Grace is sufficient for you, for my power is made perfect in weakness." Therefore, I will boast all the more gladly about my weaknesses so that Christ's power may rest on me.

2 Corinthians 12:9 (NIV)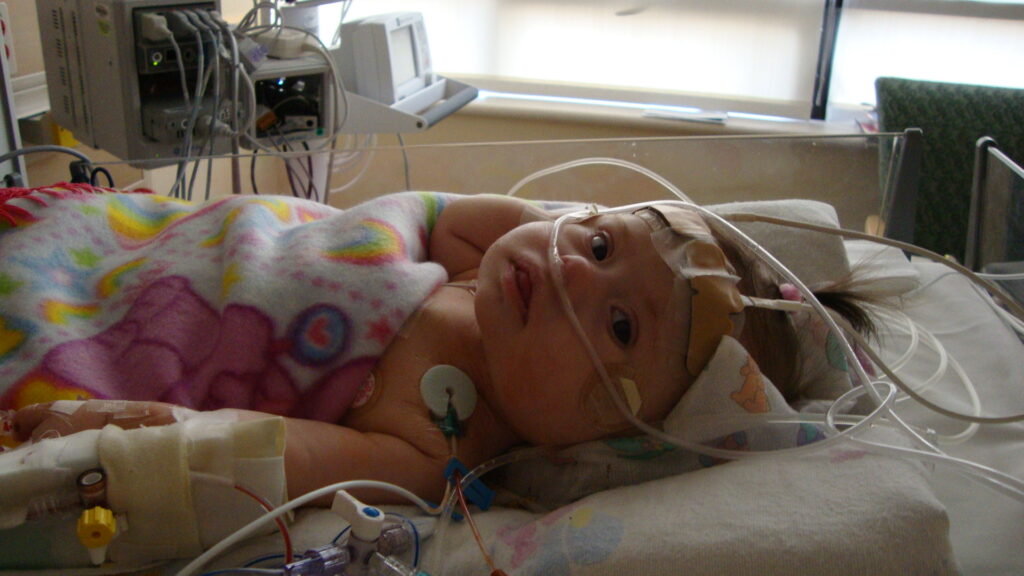 ---
I met a new friend at the hospital whose daughter went to see Jesus. She was devastated by her loss, and my heart was frightened; this could have been my story. We exchanged numbers that day.
Another friend and I visited her later; she said she was suicidal, and we led her to the Lord. One of my questions to God months later was, why did you not heal Joy? Then the Lord reminded me of meeting this woman, and because Joy needed surgery, she found Christ. Romans 8:28, "…God causes all things to work together for good to those who love God…." Praise Jesus for his beautiful plan.
---
Endless Love
My marriage of 23 years ended in divorce through this experience and all the others. The Lord taught me that He is the only place I will find true love. I learned the safety I desired would never be found in man or anything else. Satisfaction, peace, and joy can only be found in an intimate place with God.
He is waiting for us to come to Him to be satisfied. No man, no child, no financial situation, no health situation, no amount of fame or knowledge can ever begin to touch the vast and all-encompassing beauty that our savior Jesus Christ gives. Only he holds our key to perfect love.
"Perfect love casts out fear. There is no fear in love [dread does not exit]. But perfect (complete, full-grown) love drives out fear because fear involves [the expectation of divine] punishment, so the one who is afraid [of God's judgment] is not perfected in love [has not grown into a sufficient understanding of God's love."

1 John 4:18 (AMP)
In His presence, you will find unique moments He can only provide; He will fill the gaping hole made only for Him. " Taste and see that the Lord is good." Ps 34:8
What we all are craving is found in this secret place called His Presence. You can find it too. Just seek Him with all you have.
"Love the Lord your God with all your heart and with all your soul and with all your mind and with all your strength."

Mark 12:30 (NIV)
---
I hope no matter where your journey leads you through the joys and the heartaches of life, you will always choose to hold Christ's hand and walk on this path less traveled, trusting His plan, not yours. I pray you will breathe in His love, bask in His glory, smile at His smile, gleam into His eyes, and see how satisfied He is in YOU and you with Him.
The mess is beautiful. Don't rely on your perfection "our filthy rags." He has plenty of holy rags available to clean up our righteous filthy works done in vain.
All of us have become like one who is unclean, and all our righteous acts are like filthy rags; we all shrivel up like a leaf, and like the wind, our sins sweep us away.

Isaiah 64:6 (NIV)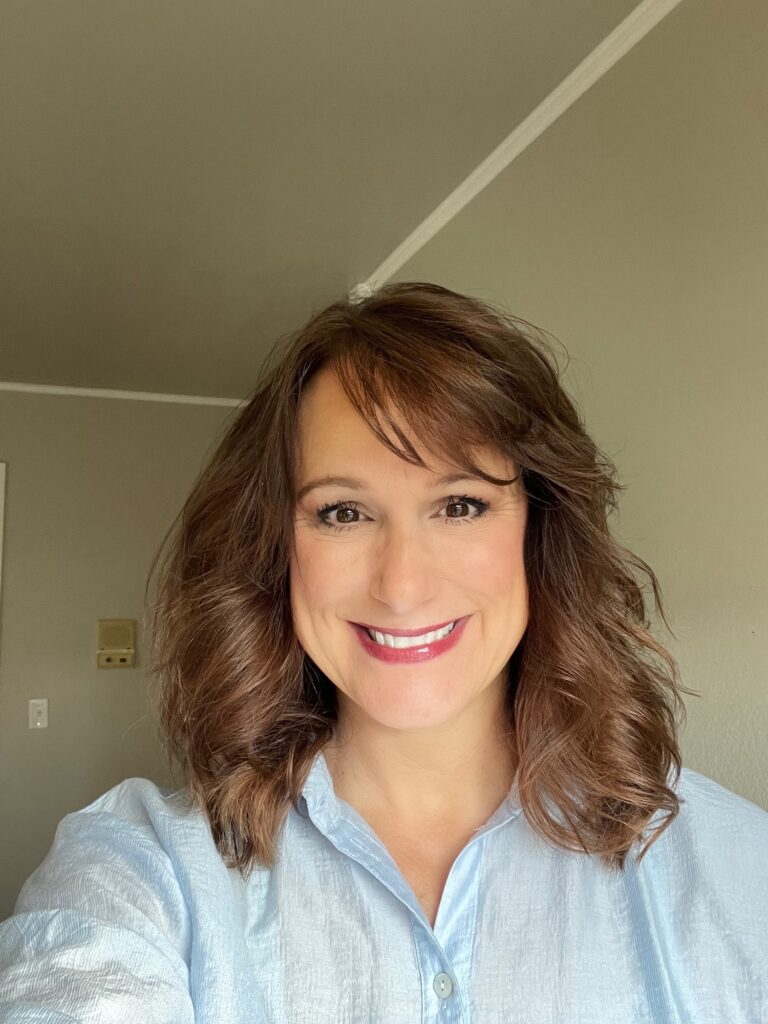 Jana Smith is an Edmond, OK, native who, after fifty years of trying to be perfect, came up empty, broken, and defeated at the feet of Jesus. But, as He picked her up and comforted her with His overwhelming love, she finally found relief and satisfaction in His arms of grace. When Jana isn't spending time with God, she loves making memories with her three adult children, her amazing thirteen-year-old daughter with special needs, and her two grandkids, grateful for the life God has granted them.