Written on May 7, 2022
It's Mother's Day, and I have been reflecting on all the times I was young and dumb as a kid. Many specifics I care not to recall and a whole lot I wish I could forget.  If only such seasons in life did not exist.
A terrible teenager from age 16 to 18, I broke my mother's heart and made her feel like an afterthought. I knew she loved me because she always told me, and I loved her—yet I behaved so selfishly. Was I a Christian then? Shockingly yes! To be a child of God and still misbehave, I was far from sagacious. Satan had his heyday, but my Heavenly Father stayed by me, leading me back. And Mama's prevalent prayers certainly gave me some immunity. Her prayers protected me on that broken road more than I realized. Later, I knew I owed her a sincere apology without excuses, and I will never forget what she said, "I love you. You're my child!  If God forgives us for our horrible sins, why wouldn't I forgive you?"
"Therefore confess your sins to each other and pray for each other so that you may be healed. The prayer of a righteous person is powerful and effective."

James 5:16 (NIV)
It was like Mama was God in human form, showing me just what His love is all about. She was never pushy or one to put guilt on me. Just the opposite, she was always ready to listen, concerned for my best interest, gentle with her advice, quietly standing by, ready to give her heart to me, and always-always praying for me. She was the same gift to her grandchildren, the "joist" in their foundation as an important support in their young lives. Her wisdom was far greater than mine, her hugs boundless, her love the epitome of unconditional love, and she always, always prayed for them.
Prayer has remained at the forefront of my life. It has strengthened my relationship with my Heavenly Father. The word intimate means closely acquainted, familiar, and close. He has been exactly that, especially in the midst of my worst trials, the death of my parents just 11 months apart; Mama in December of 2018 from Alzheimer's Disease and Pop in November of 2019 from a massive stroke. I have grieved over the loss of grandparents and other loved ones, but never have I experienced grief such as this. It is the kind that causes physical pangs and emotional anxiety, an overwhelming sadness. But throughout, I cried on my Heavenly Father's shoulder just as David in Psalms 61:1-2 (NIV), "Hear my cry, O God; listen to my prayer." I focused on Paul's instructions in Romans 12:12 (NIV), "Be joyful in hope, patient in affliction, faithful in prayer." And the rescue came. Out of those ashes, I see God's protection and His provision with my request to care for my parents until He called them home.
"Relieve the troubles of my heart and free me from my anguish."

Psalms 25:17 (NIV)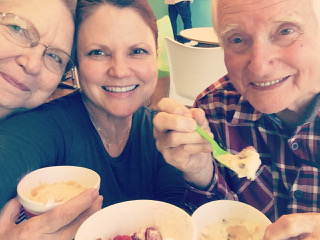 In John Piper's message "Prevailing Prayer for the Spirit's Power", he describes prayer as "the pathway to the outpouring of the Holy Spirit." That is powerful. I've questioned my role in life and God showed me that praying for others is a spiritual gift. So, when I tell someone that I will pray for them, it's a spoken oath and a written promise in my journal.  In conflicts or situations without details, I will simply ask God to meet that person's needs.  Prayer for others is also a balm for my wounds and scars.
I am thankful for the hard lessons in growth, for the gift of God's grace, and for forgiveness. My life was eternally blessed by my Mama's loving presence, even when my young-adult self thought differently.
"…and don't reject your mother's teaching, for they will be a garland of grace on your head and a gold chain around your neck."

Proverbs 1:8-9 (NIV)
Jen Lambert is a wife, mom, grandma, and native of North Carolina. She has a love for writing and still learning how to share more of it.  She raises a small flock of hens (aka Jen's Hens) and enjoys some hunting and fishing with her husband, Van. Follow her on Instagram @jenrlambert and check out her website  https://saltycottagestudio.com
Holy Bible. New International Version, Zondervan Publishing House, 1984.
Piper, John. "Prevailing Prayer for the Spirit's Power." Desiring God, 13 June 2022, https://www.desiringgod.org/messages/prevailing-prayer-for-the-spirits-power.